This post originally appeared on the Gartner Blog Network.
I am proud to announce that my research on cloud cost management and optimization is now available for free at this link. Gartner made this research public to help organizations in this difficult moment of dealing with a global pandemic and economic recession. The research was selected because it speaks to pandemic-driven business priorities such as cloud adoption and cost optimization.
Gartner has been publishing guidance on managing costs of cloud IaaS and PaaS for the last few years. This practice continues to evolve due to new cloud provider capabilities, organizations increasing their cloud maturity and cloud services becoming more complex. Earlier this year, my colleague Traverse Clayton and I published the latest edition of our cost management framework (depicted in the figure below). This update has drawn a lot of interest from clients, because it helps organizations accelerating cloud adoption in a governed fashion, while unlocking cost savings and minimizing the risk of overspending.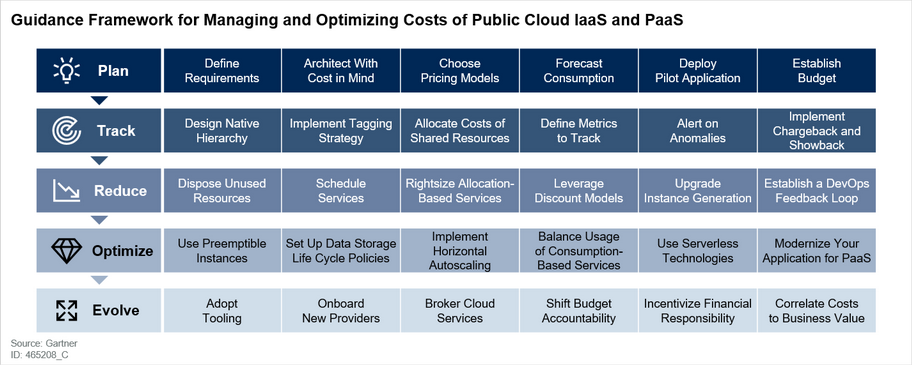 The framework describes the technical capabilities that organizations must develop to manage cloud costs successfully. Our guidance has evolved to encompass new aspects of planning, tracking and optimizing public cloud costs on an ongoing basis. Examples of updates included in this edition are:
A clearer delineation between "Reduce" and "Optimize." Reducing costs is about leveraging more cost-effective configurations without impacting the application architecture. These techniques include rightsizing, scheduling and programmatic discounts. Optimizing costs requires implementing architectural changes that drive costs down. For example, moving from compute instances to event-driven serverless function-as-a-service.
The addition of techniques to incentivize financial responsibility. Centralized IT does not want to be held accountable for the spend generated by architectural decisions made by other teams, such as application development and DevOps. Therefore, the framework includes more aspects that help "shift left" the budget accountability. These techniques include budget approvals, dedicated dashboards, cost optimization recommendations and the institution of "leader boards" that highlight the most disciplined cloud consumers.
The addition of the correlation of cloud costs with business value. Many digital business applications do not have steady budgets. Their cost often varies on the basis of the number of transactions or users that they handle. The framework helps identify business KPIs and calculate their ratio with cloud costs. Monitoring the trends of that ratio allows organizations to manage costs of applications that have variable demand, in relation to the value that organizations receive from cloud services. Furthermore, such approach allows for the measurement of the efficiency of the cloud cost management practice.
Read the complete cloud cost management and optimization research for free at this link. I hope you find it useful and I welcome your feedback at marco.meinardi@gartner.com. Should you also be a Gartner client wanting to discuss this topic in more details, you can schedule an inquiry call with me by emailing inquiry@gartner.com or through your Gartner representative.
Follow me on Twitter (@meinardi) or connect with me on LinkedIn for further updates on my research. Looking forward to talking to you!