This post originally appears on the Gartner Blog Network.
After several months of work, hundreds of customer calls and tens of vendor briefings, it's finally out there: the Gartner's "Evaluation Criteria for Cloud Management Platforms and Tools" has just published and is now available to Gartner clients. The research (which is available behind paywall at this link) contains 215 evaluation criteria divided into eight categories and four additional attributes (see the figure below). Gartner clients can use this research to assess cloud management vendor solutions and determine which areas of management they cover. Furthermore, clients will be able to compare the results of the assessments to select the cloud management platforms (CMPs) and tools that best align to their requirements.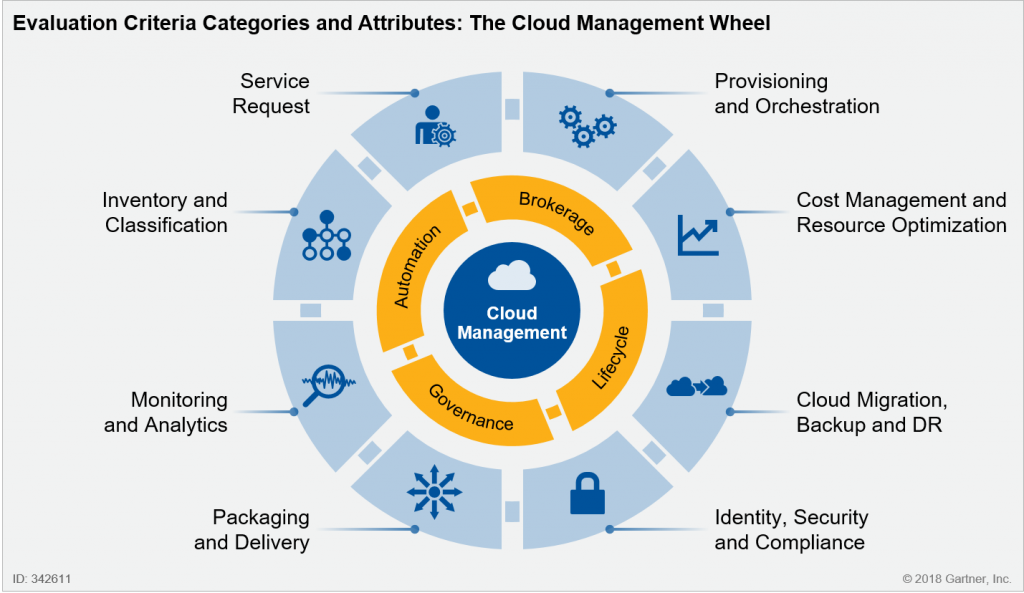 The eight categories above serve as the primary scope for each criterion. The four attributes serve as additional scope and they apply to criteria across all eight categories. For example, the "provisioning policies" criterion belongs to the "Provisioning and Orchestration" category, but it's also tagged with the "Governance" and "Life Cycle" attributes. This bidimensional classification is the result of the type of questions we receive from clients and that we want to answer with this research. For instance, clients often ask "what are the functions required to manage cloud costs?", but also "how do I evaluate cloud governance tools?". The approach we've taken will give clients the ability to quickly identify criteria from multiple overlapping perspectives.
Furthermore, all categories present a breakdown into "Required", "Preferred" and "Optional". This further classification is based on what Gartner thinks should be required for an enterprise-grade solution. However, clients are encouraged to tailor the evaluation criteria research with what they consider important for their organization. To do this, the research comes with an attached editable spreadsheet that clients can manipulate to prepare a tailored version of the evaluation criteria to support their RFI/RFP efforts.
Because CMPs on the market tend to provide a set of functions that differ based on the chosen cloud platform, clients should use this research to run a separate assessment for each of the cloud platforms they intend to use. For example, a CMP may support Amazon CloudWatch but not Azure Monitor as data source. Therefore, the CMP should be scored as "Yes" for AWS and "No" for Microsoft Azure with respect to the "Cloud-platform-native monitoring integration" criterion.
The wheel in the above figure has evolved a bit since the version of my previous post. However, that has been a necessary step to take as we dove into the actual requirements beneath each category. We are happy with the results of this research and we're confident that Gartner clients will be as well. We encourage all clients to use the Evaluation Criteria for Cloud Management Platforms and Tools and share their feedback for future improvement or refinement.
To engage with me, feel free to schedule inquiry call (inquiry@gartner.com), follow me on Twitter (@meinardi) or connect with me on LinkedIn. Looking forward to talking to you!