This post originally appears on the Gartner Blog Network.
Gartner has just published the updated cloud IaaS scores for Amazon Web Services (AWS), Microsoft Azure and Google Cloud Platform (GCP). Gartner clients are normally used to see these updates coming once a year, but this time we decided to publish a quick incremental update, which is still based on last year's 236-point Evaluation Criteria for Cloud Infrastructure as a Service (research by Elias Khnaser, @ekhnaser). Considering the pace at which the three hyperscale cloud providers are moving, we felt the need to reassess their coverage with higher frequency.
Compared to the previous assessments occurred mid-summer 2017, these new assessments show a steady growth in feature coverage by all three providers, with GCP leading the growth with an overall increment of 12 percent points. Azure follows with five additional percent points and AWS, which was the provider with the highest coverage also last year, marked an increment of four percent points. The figure below shows the details of the movements occurred within this update, broken down by required, preferred and optional criteria. It is interesting to note how some scores also went down (see Azure, required). When scores go down, it is not always due to providers removing features, but sometimes – like in this case – due to the modification of the applicability of the criteria's scope.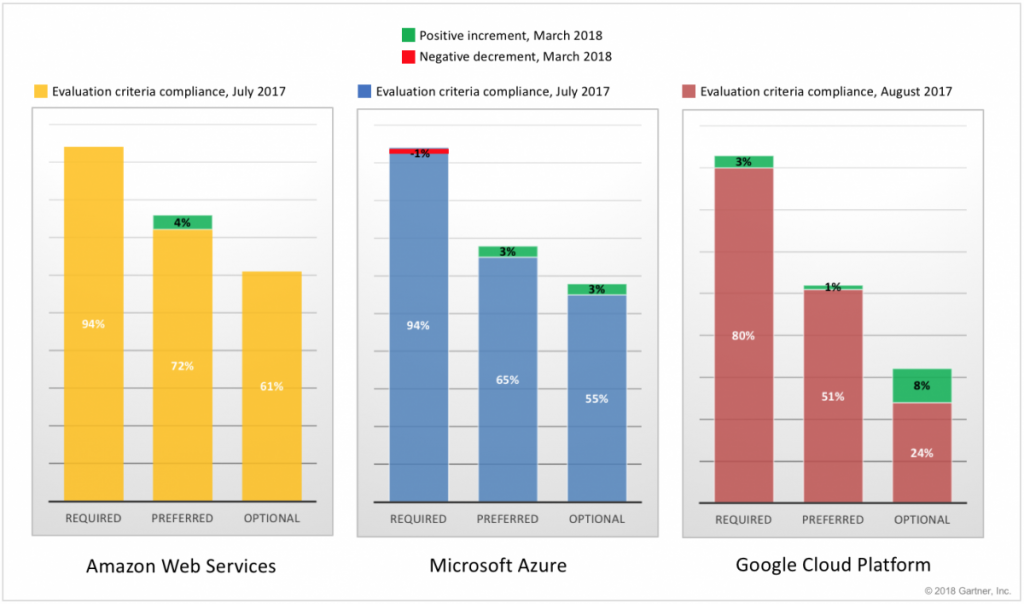 What's exactly behind these changes? Gartner for Technical Professionals (GTP) clients can access the three research notes to find out. With this update to the in-depth assessments, we have also introduced a "What's New" summary section and a detailed "Change Log", so that clients can quickly determine what are the provider's updates that drove the changes in the scores.
What are the areas where providers are investing more? What are the gaps that still exist in some of their offerings? Are those gaps important or negligible for your organization? Find the answer to these and other questions by accessing the detailed research notes at:
In the meantime, Gartner is also redefining the full list of evaluation criteria for cloud IaaS in light of provider innovation and the shift in customer requirements as they adopt more public cloud services. The next update of the providers scores will most likely be based on the revised evaluation criteria. Stay tuned for new and potentially surprising results!